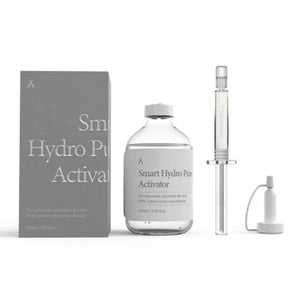 Dermabell Basic
(New) Pure Activator
Regular price
Sale price
$ 120.00 SGD
---
A lightweight yet potent skincare-activating ampoule made of a combination of our Smart Hydro Pure formula, β-glucan & α-glucan oligosaccharide. 
What it does:
- Enhances penetration and efficacy of other products
- Soothes & strengthens the skin barrier to prevent sensitive skin
- Boosts hydration & promotes cell regeneration
Recommended for:
✔ All skin types; especially sensitive skin
✔ Damaged/ Thin Skin Barrier

✔ Hot/ Humid Environments
Product Size: 100g

Click here to learn more
History
More than 4,000 years ago, deep oceanic water in Greenland travelled through the Arctic Ocean and the Atlantic Ocean, reaching the northernmost tip of the East China Sea 2,000 years later.

Using the only pollution-free pipe system in Korea over 6,000 meters long), we are able to safely obtain the oceanic water in its purest form. The water is then molecularly developed for the easiest absorption into human skin.
Technology
EDH technology - Electrolyses the deep oceanic water to obtain water in the micro-particle state with high ion activity, allowing for easy penetration into the skin.

"KSY-0516 (YEAST)" Patented Technology - Gives the β-glucan a highly-pure, highly-concentrated & water-soluble state. In place of traditional hot-water extraction methods, the use of organic solvents or other common techniques, the yeast is cultured to retain the natural molecular structure. No artificial synthetic substances and preservatives are added, reducing harm on your skin's health.
Key Ingredients
*All ingredients of the Smart Hydro Pure Line are classified as EWG-Green
β-glucan: A yeast-derived anti-inflammatory ingredient, cultured using patented technology to retain its natural molecular structure

Penetrates into the dermis layer to effectively replenish moisture
Promotes collagen synthesis for youthful skin
Firms and smoothens by enhancing cellular immunity and density
Strengthens the skin barrier to prevent hypersensitivity

α-glucan oligosaccharide: A 

polysaccharide that controls the absorption of harmful and beneficial bacteria into the skin.

Promotes the growth of beneficial bacteria
Strengthens the skin barrier's natural defence abilities

Pure ionised oceanic water

Derived from -605m beneath surface level of the East China Sea
Free of pollutants & naturally rich in minerals
How to use
Add 1-2 drops to other products - Place an appropriate amount of your skincare product of choice on your palm or the back of your hand, and add 1-2 drops of the Smart Hydro Pure Activator. Mix well and apply it to the skin.
Fully infused with other products - Pour the entire bottle of Smart Hydro Pure Activator into the Smart Hydro H2O Pure Water, or other skincare product of your choice. Shake or mix well to fully infuse.
Applied directly - After toning, apply 2-3 drops of the Smart Hydro Pure Activator onto the face and gently tap until completely absorbed. Finish off with serum and moisturiser.
Skincare Cocktail - Add the Smart Hydro Pure Activator to your skincare of choice and store in small containers to create one-of-a-kind skincare products tailored to your skin type and concerns.
Sleeping Mask - To achieve a glass-like skin finish, apply directly to the skin during the final stage of skincare (after moisturiser). This boosts the nutrient absorption of products applied underneath, and creates an evaporation-proof barrier to prevent moisture loss during sleep.
---